Ropax Vessels for Sale
Ropax or roro (roll-on or roll-off) trailer passenger vessels are built for freight vehicle transportation as well as passenger/driver accommodation. Below you will find updated list of trailer ropax vessels for sale.
MARKET COMMENTS
The market for trailer/ropax vessels continue to be very strong in 2018. There are very few, if any, good modern trailer ROPAX vessels available for sale and value of these ships are rapidly increasing. Some older tonnage have been retired and there are a number of buyers in the market ready to buy good ropax vessels at market price level.
OUR RECENT SALES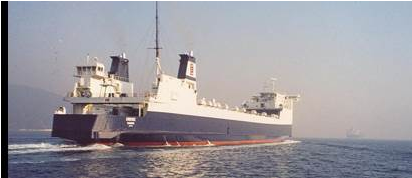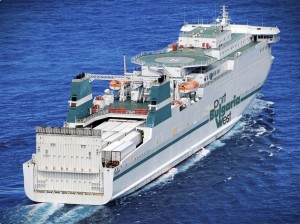 TRAILER FERRIES /ROPAX VESSELS
Available for sale
Brief summary
(Please contact us for further details and information)
Updated frequently, latest April 20th, 2018
| REF.NO | BUILT | LOA | BEAM | DWT | PAX | CABINS | BEDS | LANE | TRAILERS | FREE DK | SPEED | PRICE |
| --- | --- | --- | --- | --- | --- | --- | --- | --- | --- | --- | --- | --- |
| | | MTR | MTR | | | | | MTR | | HEIGHT | KNOTS | INDIC (MIO) |
| | | | | | | | | | | | | |
| RP052 | 1987 | 190.9 | 28 | 5064 | 280 | 50 | 153 | 2060 | 120 | 5 | 17 | USD 7 |
| RP084 | 2002 | 159.7 | 23.7 | 6500 | 218 | 30 | 118 | 1715 | | 6.9 | 22 | EURO 26 |
| RP027 | 1992 | 158 | 24 | 6030 | 1102 | 166 | 970 | 1710 | | 4.5 | 15.5 | USD 8 |
| RP105 | 1987 | 190.9 | 28 | 6320 | 132 | 55 | 112 | 1700 | | 5 | 15.5 | EURO 8 |
| RP113 | 1993 | 150.4 | 23.4 | 6700 | 130 | 26 | 130 | 1600 | 103 | 5 | 18 | EURO 16 |
| RP091 | 1986 | 190.8 | 26 | 10788 | 100 | | 100 | 1570 | | 5.6 | 15.5 | USD 7 |
| RP030 | 1988 | 190.8 | 28 | 7971 | 95 | 59 | 154 | 1570 | | 5.6 | 15.5 | FOR CHARTER |
| RP106 | 1989 | 190.9 | 28 | 7664 | 250 | 80 | 214 | 1539 | | 4.9 | 15.5 | EURO 9 |
| RP103 | 1987 | 160.1 | 22.4 | 4795 | 223 | 17 | 52 | 1218 | | 4.5 | 21.5 | EURO 10 |
| RP123 | 1977 | 123 | 21 | 2737 | 266 | 104 | 146 | 1159 | | 4.7 | 11.5 | USD |
| RP023 | 1976 | 127.2 | 19.6 | 5485 | 162 | 23 | 92 | 1090 | | 4.5 | 19 | USD 4 |
| RP093 | 1979 | 113.4 | 22.2 | 2676 | 60 | 18 | 70 | 880 | 52 | 6.2 | 11 | USD 2,5 |