Night Ferries for Sale
Norwegian Ship Sales As have a specialized team of professional sale and purchase brokers covering night ferries for sale. We follow the worldwide market and provide all updated and relevant information to our clients, including all technical information, market information, assistance and guidance in negotiation of the contract terms etc. Additionally we offer assistance in positioning the ferry to the buyer's new home port.
MARKET COMMENTS
Many of the ferries built in the 1970's have been scrapped and now we see also vessels built in 1980's being scrapped or being used for alternative purposes like accommodation vessels etc. Price level for older ferries are under pressure. There is a lack of good modern night ferries built after 2000 in the market and 2nd hand prices are increasing, especiallly vessels with double trailer decks and good night pax capacity.
OUR RECENT SALES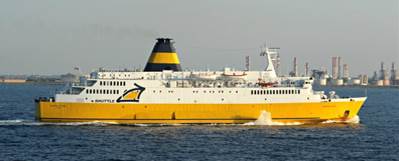 NIGHT FERRIES / NIGHT PASSENGER CAR VESSELS
Available for sale.
Brief summary
(Please contact us for further details and information)
Updated frequently, latest April 20th, 2018
| REF.NO | BUILT | LOA | BEAM | PAX | BEDS | CABINS | CARS | LANE | SPEED | CLASS | PRICE |
| --- | --- | --- | --- | --- | --- | --- | --- | --- | --- | --- | --- |
| | | MTR | MTR | | | | | MTR | KNOTS | | INDIC (MIO) |
| | | | | | | | | | | | |
| NF195 | 1995 | 195.9 | 27 | 1845 | 459 | 145 | 700 | 2050 | 25 | RI | EURO 30 |
| NF490 | 2003 | 199.4 | 25 | 661 | 661 | 196 | 540 | 2060 | 22 | AB | EURO |
| NF154 | 1992 | 170 | 25 | 705 | 482 | 67 | | 1677 | 26 | KR | USD |
| NF482 | 2001 | 214 | 33 | 2700 | 1212 | 319 | 824 | 915 | 23 | RI | EURO |
| NF297 | 1987 | 132.9 | 23 | 613 | 599 | | 300 | 814 | 17 | KR | USD |
| NF339 | 2000 | 176.1 | 25.7 | 1600 | 430 | 161 | 640 | 1745 | 27 | LR | EURO 55- |
| NF408 | 2006 | 161.2 | 24.8 | 1128 | 902 | 125 | | 1800 | 18 | CCS | USD 23 |
| NF388 | 2007 | 161.2 | 24.8 | 1128 | 902 | 125 | | 1800 | 18 | CCS | USD 23 |
| NF413 | 1973 | 75.6 | 14.7 | 206 | 160 | 50 | 45 | | 10.5 | UKR | EURO |
| NF354 | 2001 | 186.5 | 25.6 | 950 | 308 | 78 | | 2040 | 22 | RI | EURO 50 |
| NF224 | 1976 | 141.5 | 23.5 | 1132 | 346 | 94 | 420 | 1200 | 20 | RS | AUCTION |
| NF477 | 1994 | 195.5 | 29.4 | 926 | 638 | 20 | 452 | 1860 | 23 | JG | USD 9 |
| NF478 | 1994 | 195.5 | 29.4 | 926 | 638 | 20 | 452 | 1860 | 23 | JG | USD 9 |
| NF276 | 1979 | 127.6 | 19.4 | 399 | 454 | 120 | 277 | 510 | 17 | RI | EURO 6 |
| NF387 | 1997 | 200.7 | 25.8 | 1500 | 712 | 197 | 819 | 2130 | 26.5 | GL | EURO 65 |
| NF426 | 1979 | 191.8 | 29.4 | 1494 | 472 | 134 | 650 | 1700 | 22.5 | RI | EURO |
| NF427 | 1979 | 191.8 | 29.4 | 1494 | 472 | 134 | 650 | 1700 | 22.5 | RI | EURO |
| NF488 | 1989 | 165.6 | 27.4 | 2436 | 1832 | 527 | 700 | 800 | 24 | BV | EURO |
| NF077 | 1973 | 136.7 | 22.4 | 1300 | 256 | 95 | 260 | 597 | 19 | HR | EURO |
| NF383 | 1990 | 186.5 | 24.8 | 731 | 64 | 32 | | 1500 | 23 | KR | USD 10 |
| NF289 | 1987 | 192.5 | 27 | 1484 | 284 | 62 | 748 | 1600 | 21.5 | RI | EURO 12 |
| NF430 | 2014 | 161 | 25.6 | 1215 | 324 | 162 | 650 | 1575 | 19 | BV | EURO |
| NF319 | 1996 | 166.3 | 25 | 148 | | | | 1600 | 21 | JG | YEN |
| NF291 | 1991 | 166 | 25 | 401 | 122 | 28 | 432 | 1262 | 21 | JG | YEN |
| NF454 | 2000 | 204.1 | 25.8 | 1850 | 808 | 236 | 654 | 2028 | 28 | LR | EURO |
| NF304 | 1987 | 101.7 | 17 | 700 | 50 | 25 | 145 | 310 | 18 | LR | EURO 6 |
| NF466 | 1972 | 119.5 | 19.2 | 1500 | 42 | | 270 | 450 | 19 | BV | EURO |
| NF090 | 1980 | 142.5 | 23.6 | 1000 | 650 | 223 | 420 | 1300 | 20 | RI | EURO 8 |
| NF115 | 1973 | 128 | 22 | 500 | 528 | 180 | 295 | 544 | 17 | NV | EURO 4,5 |
| NF062 | 1980 | 136.1 | 24.3 | 1700 | 1184 | 453 | 575 | 720 | 21 | NV | EURO 15 |
| NF398 | 1991 | 185.5 | 26.8 | 921 | 351 | 109 | 470 | 1530 | 22.9 | KR | USD |
| NF487 | 1989 | 167.2 | 23.5 | 750 | | | 214 | 1070 | 21 | KR | USD |
| NF347 | 1993 | 201.8 | 32 | 3123 | 3746 | 1194 | 400 | 932 | 21.5 | BV | EURO |
| NF344 | 1981 | 168.5 | 24 | 2072 | 1786 | 515 | 650 | 785 | 19 | NV | EURO 28 |
| NF438 | 1996 | 199.5 | 25 | 507 | 507 | 94 | | 1220 | 29.4 | JG | USD 11 |
| NF485 | 1993 | 186 | 25.5 | 782 | 607 | | 140 | 2208 | 23 | JG | USD 5 |
| NF484 | 1993 | 186 | 25.5 | 782 | 607 | | 140 | 2208 | 23 | JG | USD 5 |
| NF136 | 1982 | 170.2 | 25.8 | 900 | 400 | 42 | 300 | 1189 | 17 | LR | EURO |
| NF455 | 2002 | 199.9 | 25 | 1500 | 790 | 198 | 653 | 1915 | 28.5 | AB | EURO 65 |
| NF437 | 1996 | 199.5 | 25 | 507 | 507 | 94 | | 1220 | 29.4 | JG | YEN |
| NF040 | 1976 | 135.8 | 20.6 | 720 | 198 | 57 | 220 | 1150 | 18.5 | RI | USD |
| NF375 | 1992 | 145.6 | 22 | 534 | 154 | 20 | | 1460 | 21.5 | JG | USD |
| NF489 | 1980 | 164 | 27 | 1000 | 488 | 131 | | 1450 | 18 | GL | EURO |