Fast Ferries for Sale
Norwegian Ship Sales As have updated fresh listings of all types of fast ferries for sale and purchase available. The listings include high speed catamarans and mono hull vessels. Listings include pure passenger vessels and vessels with cars and cargo capacities. Additionally we offer assistance in positioning the ferry to the buyer's new home port.
MARKET COMMENTS
In 2012 -2015 we saw scrapping of some larger hi-speed pax/car ferries with (too) heavy bunkers consumptions. Sales activity picked up the past few years where  a good number of pax/car ferries and pure pax ferries were sold at occasionally higher prices than expected . There is a number of modern catamarans/mono-hulls, both pure pax vessels and pax/car vessels built 2000 onwards offered for sale at good price levels.
OUR RECENT SALES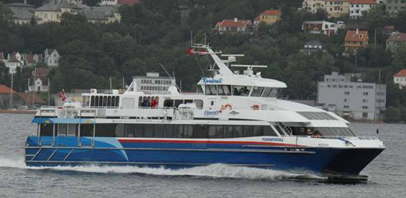 FAST FERRIES / HIGH SPEED VESSELS
CATAMARAN FERRIES
Available for sale
Brief summary
(Please contact us for further details and information)
Updated frequently, latest April 20th, 2018
| REF.NO | BUILT | TYPE | LOA | BEAM | PAX | CARS | ENGINE | SPEED | CLASS | PRICE |
| --- | --- | --- | --- | --- | --- | --- | --- | --- | --- | --- |
| | | | MTR | MTR | | | | KNOTS | | INDIC (MIO) |
| | | | | | | | | | | |
| FPF192 | 1999 | MONOHULL | 145.6 | 22 | 1800 | 460 | 2xTURB | 40 | RI | EUR |
| FPF565 | 2001 | MONOHULL | 140 | 21.8 | 1742 | 442 | 2xTURB | 40 | BV | EURO 17 |
| FPF571 | 1999 | INCAT | 96 | 26 | 1200 | 300 | 4xCAT | 45 | NV | EURO 25 |
| FPF069 | 1994 | CATAMARAN | 99.8 | 20 | 1125 | 173 | 4xCAT | 28 | RI | EURO 3,5 |
| FPF574 | 2000 | MONOHULL | 119 | 15.7 | 1100 | 200 | 4xPIEL | 36 | BV | EURO 11 |
| FPF590 | 2001 | CATAMARAN | 101.4 | 26.7 | 970 | 251 | 4xCAT | 35 | DNV | USD |
| FPF135 | 1998 | INCAT | 91.3 | 26 | 900 | 240 | 4xCAT | 42 | NV | EURO 18 |
| FPF235 | 2003 | INCAT | 97.2 | 26.6 | 900 | 267 | 4xRUST | 35 | | EURO 25 |
| FPF390 | 2000 | MONOHULL | 113.4 | 16.5 | 880 | 200 | 6xCAT | 32 | KR | USD 2,7 |
| FPF256 | 1996 | MONOHULL | 103.5 | 14.5 | 872 | 113 | 4xMTU | 34 | KST | USD 6 |
| FPF575 | 2001 | MONOHULL | 103 | 15.5 | 854 | 190 | 3xPIEL | 36 | BV | EURO 8,5 |
| FPF603 | 1996 | INCAT | 81.2 | 26 | 840 | 85 | 4xRUST | 27 | KR | USD 5,5 |
| FPF430 | 1999 | MONOHULL | 100 | 17.1 | 809 | 160 | 4xRUST | 35 | GL | EURO 8 |
| FPF431 | 1999 | MONOHULL | 100 | 17.1 | 809 | 160 | 4xRUST | 35 | RI | EURO |
| FPF470 | 1996 | CATAMARAN | 76.6 | 21.8 | 805 | 120 | 4xCAT | 26 | KR | USD 4,6 |
| FPF405 | 1997 | MONOHULL | 100 | 17.1 | 800 | 175 | 4xRUST | 38 | RI | EURO 7 |
| FPF156 | 1995 | CATAMARAN | 82.3 | 23 | 676 | 200 | 4xMTU | 32 | RI | EURO |
| FPF495 | 2006 | CATAMARAN | 68.4 | 18.2 | 600 | 65 | 6xMTU | 35 | NV | EURO 22 |
| FPF139 | 1997 | MONOHULL | 94.5 | 16 | 576 | 143 | 4xMTU | 27 | LR | EURO |
| FPF086 | 1994 | MONOHULL | 96.2 | 14.6 | 575 | 80 | 4xCAT | 37 | NV | USD 5 |
| FPF334 | 1996 | MONOHULL | 102 | 15.4 | 574 | 148 | 4xMTU | 28 | BV | EURO 4,8 |
| FPF176 | 1998 | CATAMARAN | 80.1 | 19 | 564 | 68 | 4xRUST | 40 | NV | USD 5 |
| FPF409 | 1999 | CATAMARAN | 60 | 16.8 | 550 | 49 | 2xCAT | 36 | KR | USD 5 |
| FPF429 | 1996 | MONOHULL | 103.5 | 14.5 | 535 | 150 | 4xMTU | 37 | BV | EURO |
| FPF015 | 1995 | CATAMARAN | 40.6 | 12.5 | 482 | | 2xMTU | 30 | RI | USD 1,8 |
| FPF353 | 1997 | CATAMARAN | 62 | 15.4 | 468 | 48 | 4xMTU | 19.5 | KR | USD 1,5 |
| FPF585 | 1995 | CATAMARAN | 70.4 | 19.5 | 450 | 58 | 4xCAT | 50 | NV | USD 10 |
| FPF562 | 1997 | CATAMARAN | 77.3 | 19.5 | 450 | 52 | 2 TURB | 57 | NV | USD |
| FPF388 | 1999 | CATAMARAN | 49 | 12.5 | 445 | 21 | 4xMTU | 32 | BV | EURO 5 |
| FPF622 | 1994 | CATAMARAN | 39.9 | 10.1 | 443 | | 2xMTU | 30 | RI | USD 1,6 |
| FPF328 | 2001 | TRIMARAN | 54.5 | 15.3 | 432 | | 3xMTU | 32 | RI | USD |
| FPF284 | 1990 | CATAMARAN | 38 | 12 | 419 | | 2xMTU | 25 | | USD 0,85 |
| FPF227 | 1998 | CATAMARAN | 48.2 | 12.5 | 418 | 14 | 4xMTU | 32 | KR | USD 4,8 |
| FPF594 | 1995 | CATAMARAN | 40 | 10.1 | 407 | | 2xMTU | 30 | RI | USD 1,6 |
| FPF007 | 2000 | CATAMARAN | 45.4 | 12.3 | 400 | | 4xMTU | 35 | RI | EURO 4 |
| FPF619 | 2008 | CATAMARAN | 41 | 12 | 394 | 2 | 4xCUMM | 25 | LR | USD 5,9 |
| FPF280 | 1991 | CATAMARAN | 43.2 | 10 | 392 | | 4xCUMM | 27 | | USD |
| FPF539 | 1996 | CATAMARAN | 40 | 10.1 | 390 | | 2xMTU | 32 | KR | USD |
| FPF361 | 1989 | CATAMARAN | 38.8 | 9.4 | 384 | | 2xMTU | 30 | TL | EURO |
| FPF088 | 1991 | CATAMARAN | 43.2 | 10.8 | 366 | | 2xNIIG | 33 | KR | AUCTION! |
| FPF335 | 2000 | CATAMARAN | 42.8 | 10.6 | 364 | | 2xMTU | 30 | RI | EURO 2,7 |
| FPF582 | 1993 | CATAMARAN | 42 | 11.5 | 359 | | 2xMTU | 32 | KR | USD 1,8 |
| FPF488 | 1996 | CATAMARAN | 40 | 10.1 | 357 | | 2xMTU | 34 | RI | USD 1,9 |
| FPF617 | 1991 | CATAMARAN | 39.7 | 11 | 354 | | 2xMTU | 28 | | USD |
| FPF586 | 1997 | CATAMARAN | 35 | 10.1 | 350 | | 4xMTU | 26 | TL | USD 1,9 |
| FPF600 | 1997 | CATAMARAN | 35 | 10 | 350 | | 4xMTU | 24 | TL | USD 1,9 |
| FPF250 | 2002 | CATAMARAN | 42.8 | 10.6 | 346 | | 2xMTU | 35 | CRS | EURO |
| FPF077 | 1995 | CATAMARAN | 42.5 | 12.2 | 344 | | 2xMTU | 32 | KR | USD 2,2 |
| FPF359 | 1995 | CATAMARAN | 38 | 11.2 | 336 | | 4xMTU | 28 | TLL | EURO 1,3 |
| FPF568 | 1990 | CATAMARAN (ses) | 36.4 | 11.3 | 330 | | 2xDEUTZ | 45 | RI | EURO 1,5 |
| FPF096 | 1997 | CATAMARAN | 33.3 | 10.3 | 304 | | 2xMTU | 28 | GL | USD 2,2 |
| FPF173 | 1999 | CATAMARAN | 46 | 11.8 | 302 | | 2xTURB | 45 | ABS | USD 5 |
| FPF631 | 2008 | CATAMARAN | 37.6 | 10.1 | 300 | | 4xMTU | 34 | TL | EURO 3,7 |
| FPF469 | 2000 | CATAMARAN | 35 | 9.4 | 300 | | 2xCAT | 34 | LR | EURO 0,7 |
| FPF143 | 1998 | CATAMARAN | 46 | 11.8 | 300 | | 2xTURB | 50 | AB | USD 5 |
| FPF125 | 1992 | CATAMARAN | 34 | 9.4 | 297 | | 2xMTU | 30 | TL | EURO |
| FPF142 | 1989 | CATAMARAN | 38.8 | 9.4 | 292 | | 2xMTU | 32 | HRS | EURO 1,2 |
| FPF618 | 2005 | CATAMARAN | 40.1 | 11.4 | 280 | 9 | 4xMTU | 30 | NV | EURO 8 |
| FPF448 | 1991 | CATAMARAN | 35.1 | 9.5 | 280 | | 2xMTU | 26 | KST | USD 1 |
| FPF447 | 1993 | CATAMARAN | 33.2 | 11 | 279 | | 4xMITS | 37 | KR | USD 0,6 |
| FPF197 | 1996 | CATAMARAN | 40 | 10.1 | 273 | | 2xMTU | 30 | NV | EURO 2,6 |
| FPF312 | 1996 | CATAMARAN | 40 | 9.4 | 267 | | 2xCAT | 28 | NV | EURO |
| FPF244 | 1996 | CATAMARAN | 34 | 10.1 | 250 | | 2xMTU | 31 | KR | USD 1,6 |
| FPF629 | 1995 | CATAMARAN | 30.3 | 8.3 | 244 | | 2xDAEW | 20 | KST | USD |
| FPF016 | 1986 | CATAMARAN | 33.7 | 9.4 | 235 | | 2XMTU | 36 | | USD 0,890 |
| FPF567 | 2005 | MONOHULL | 30 | 7 | 235 | | 2xMTU | 20 | BV | EURO |
| FPF062 | 1992 | CATAMARAN | 35 | 11 | 232 | | 2xMTU | 29 | CS | USD 1,5′ |
| FPF621 | 2008 | CATAMARAN | 64.8 | 16.5 | 208 | 56 | 4xMTU | 48 | NV | USD 10 |
| FPF612 | 2011 | MONOHULL | 37 | 7 | 204 | | 3xMTU | 28 | RI | EURO 4,2 |
| FPF611 | 2011 | MONOHULL | 37 | 7 | 204 | | 3xMTU | 28 | RI | EURO 4,2 |
| FPF426 | 1987 | CATAMARAN | 38.8 | 9.4 | 201 | | 2xMTU | 35 | NV | USD |
| FPF625 | 1978 | JET FOIL | 27.4 | 8.5 | 200 | | 2xDETR | 40 | KR | USD 2,1 |
| FPF177 | 1998 | MONOHULL | 30 | 7.3 | 198 | | 3xMTU | 25 | LR | USD 2 |
| FPF580 | 1997 | CATAMARAN | 35 | 10.1 | 195 | | 4xMTU | 33 | NV | EURO |
| FPF632 | 1998 | CATAMARAN | 33 | 8.3 | 190 | | 2xMTU | 33 | | EURO 2,25 |
| FPF566 | 1998 | MONOHULL | 30 | 7.3 | 189 | | 3xMTU | 29 | LR | USD |
| FPF630 | 1978 | CATAMARAN | 26.7 | 9 | 180 | | 2xDEUTZ | 22 | | EURO 0,7 |
| FPF315 | 2001 | MONOHULL | 38 | 7 | 170 | | 3xCAT | 28 | NV | USD |
| FPF616 | 2012 | MONOHULL | 35.2 | 7 | 144 | | 3xMTU | 34 | BV | USD 3,9 |
| FPF129 | 1997 | CATAMARAN | 22.3 | 7.6 | 126 | | 2xCAT | 22 | RI | USD |
| FPF318 | 1998 | CATAMARAN | 21.2 | 7.2 | 125 | | 2xVOLV | 21 | AUS | USD |
| FPF610 | 1990 | CATAMARAN | 22.5 | 7.2 | 106 | | 2xMTU | 25 | NMD | NOK 8 |
| FPF082 | 1994 | CATAMARAN | 22.7 | 7.7 | 105 | | 2xMAN | 24 | RI | USD 0,5 |
| FPF627 | 1991 | MONOHULL | 22.5 | 7.6 | 98 | | 2xMTU | 21 | | EURO 1,1 |
| FPF628 | 2004 | CATAMARAN | 26.1 | 9.3 | 70 | 6 | 2xSCAN | 20 | DNV | EURO 4 |